Please note you will only be notified of incoming calls if your extension is set as available. See the section on Do Not Disturb function for further information.
Notifications for incoming calls come in a few ways with both audio and visual notifications.
Audio notification (i.e. ringing) will occur. It is played through your computer's audio and is
set at your computer's levels. e.g. if you have your computer audio settings muted or the volume turned down really low, you may not hear the ring. If you are wearing a headset, the ring will play through the headphones. The volume symbol next to the headset will appear with a line through it to indicate if the speaker is on Mute. You can unmute or change the volume settings in the app via the
slider.
Visual notification of an incoming call comes in a couple of ways; as a pop up notification if the app is minimised, or it will also display in the open app. In both cases the notification will include the caller ID.
Pop-up Notification

In-app Notification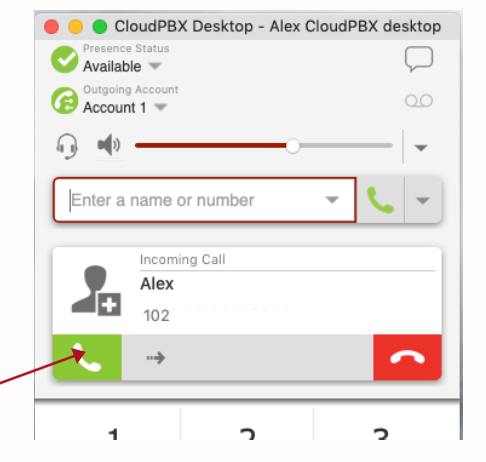 Once the call has connected you will see it's status change from Incoming call to Call established.

A menu will also appear below the call giving you access to options for further actions like placing the call on hold or transferring the call.