The Best Way to reset your Mac OS X password
The best and most common way is to do this through the Users & Groups pane in System Preferences.
If your machine is joined to a Domain there is a known issue when your password expires and you change your password at the login screen that it does not update the password in all the correct places.
If you get this prompt, please click Continue and reset your password with the following instructions.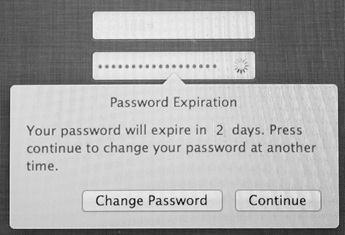 From the Apple menu, choose System Preferences.




Click the Users & Groups icon in the System Preferences window.




Select your user name from the list of users.




Click Change Password, then follow the onscreen prompts.


Changing your password this way makes sure that your password is updated in all the correct places and reduces the issues with the Keychain of your profile.