Real World has used TeamViewer as a remote support tool for our customers. Over the last week, information has been made available about possible data breaches as a result of using this software. We have confirmed that no unauthorised access has been occurred through the use of our TeamViewer software.
We are still recommending immediate action, but this is purely a preventative measure.
We highly encourage all customers to remove TeamViewer from their computers immediately. If customers cannot remove TeamViewer, please contact us so that we can do it.
How can I tell if TeamViewer is running on my computer?
For Mac:
You may find a blue TeamViewer icon in your menu bar at the top of the screen:

Alternatively, you may also find it in your application dock at the bottom of your screen:

For Windows:
You should see a TeamViewer icon in your system tray down near your clock in the bottom right-hand corner. You need to check if it is hidden by clicking the arrow: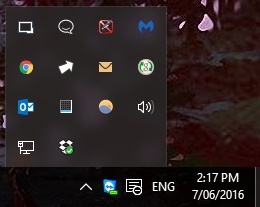 How do I uninstall TeamViewer?
How do I uninstall TeamViewer under Mac OS X?
TeamViewer 9 (or later) for Mac OS X can be completely uninstalled within the TeamViewer settings.
To uninstall TeamViewer for Mac OS X, follow these steps:
Open the TeamViewer preferences

Open the Advanced tab

Under Uninstall, click the Uninstall button

TeamViewer is uninstalled
For TeamViewer 8:
Open Finder

Click on the Applications Folder

Find TeamViewer

Drag it to the Trash

If you are prompted for a password, enter your password or the username and password of a user with administration privileges

TeamViewer is uninstalled
How do I uninstall TeamViewer under Windows (various versions)?
If, at anytime, you decide you do not want any of the software or offers that you have downloaded during this process, you can easily uninstall them via Windows' "Add/Remove Programs" using the following instructions:
To uninstall TeamViewer for Windows 10, Windows 8, Windows 7 & Vista, follow these steps:
From the Start Menu, select Control Panel

Under Programs click the Uninstall a Program link

Select the program you wish to remove and right click then select Uninstall/Change

Follow the prompts to finish the uninstallation of the software
For Windows XP:
From the Start Menu, select Control Panel

Click the Add or Remove Programs icon

Select the program you wish to remove and click on the "Remove" or "Change/Remove" button

Follow the prompts to finish the uninstallation of the software
For Windows 95, 98, Me, NT, 2000, and XP in Classic View:
From the Start Menu, select Settings, and then Control Panel

Double-click the "Add/Remove Programs" icon

Select the program you wish to remove and click on the "Remove" or "Change/Remove" button

Follow the prompts to finish the uninstallation of the software